The paintings are presented in chronological order. To signify the timeless quality of ideas, they are untitled. Their filename is used for identification. Instead of a textual signature, I use my fingerprint. To my eyes, these scans/photos are very close to the real thing. What you primarily miss out (apart from physical size for the larger paintings) is the rich texture of paint on canvas, especially since I have developed a taste for impasto. One ironical aspect is that the smaller size canvas (8x11) were originally scanned at 600 dpi, the larger ones are digital photos taken in sunlight with all the associated distortions of the process not just limited to reduced resolution. This is a very dangerous hobby to acquire. If you see me being prolific and/or getting better, whack me on the backside -- I need to get back to work!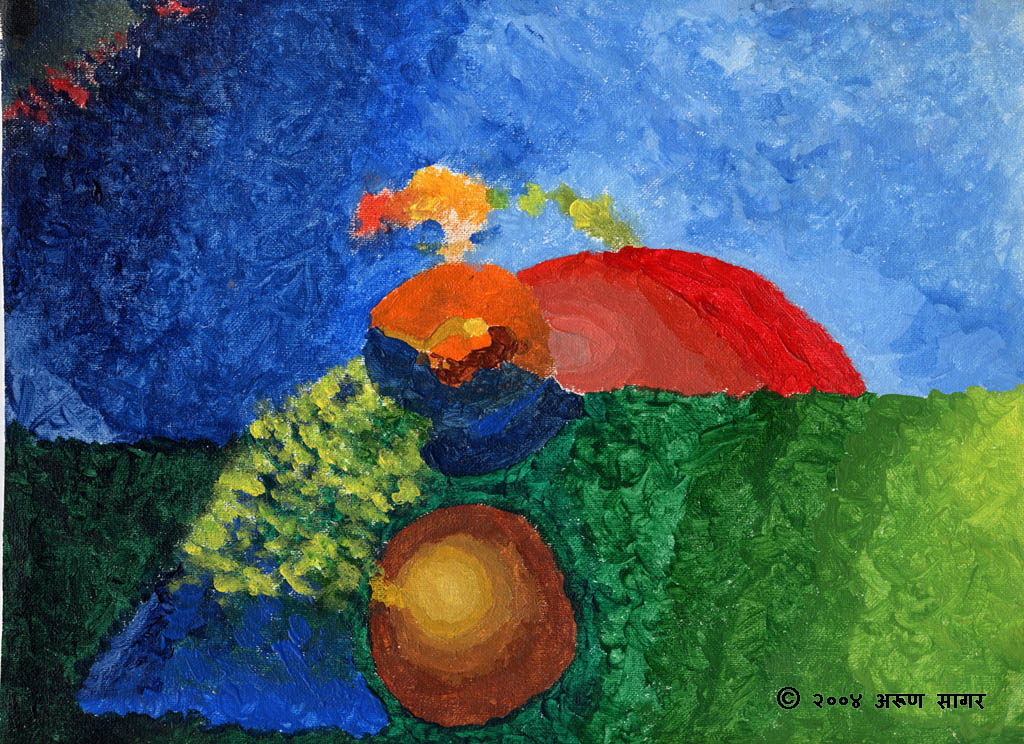 Acrylic on Canvas. 8x11
My first! If I were to title it, it would be called "Parrot Fish". This was the first time in my life I put acrylic on canvas. Painted straight from the tube. When the time came to clean the brush, linseed oil didn't work! Neither did turpentine. Horrors. Google. By jolly, these paints are water soluble. Very nice.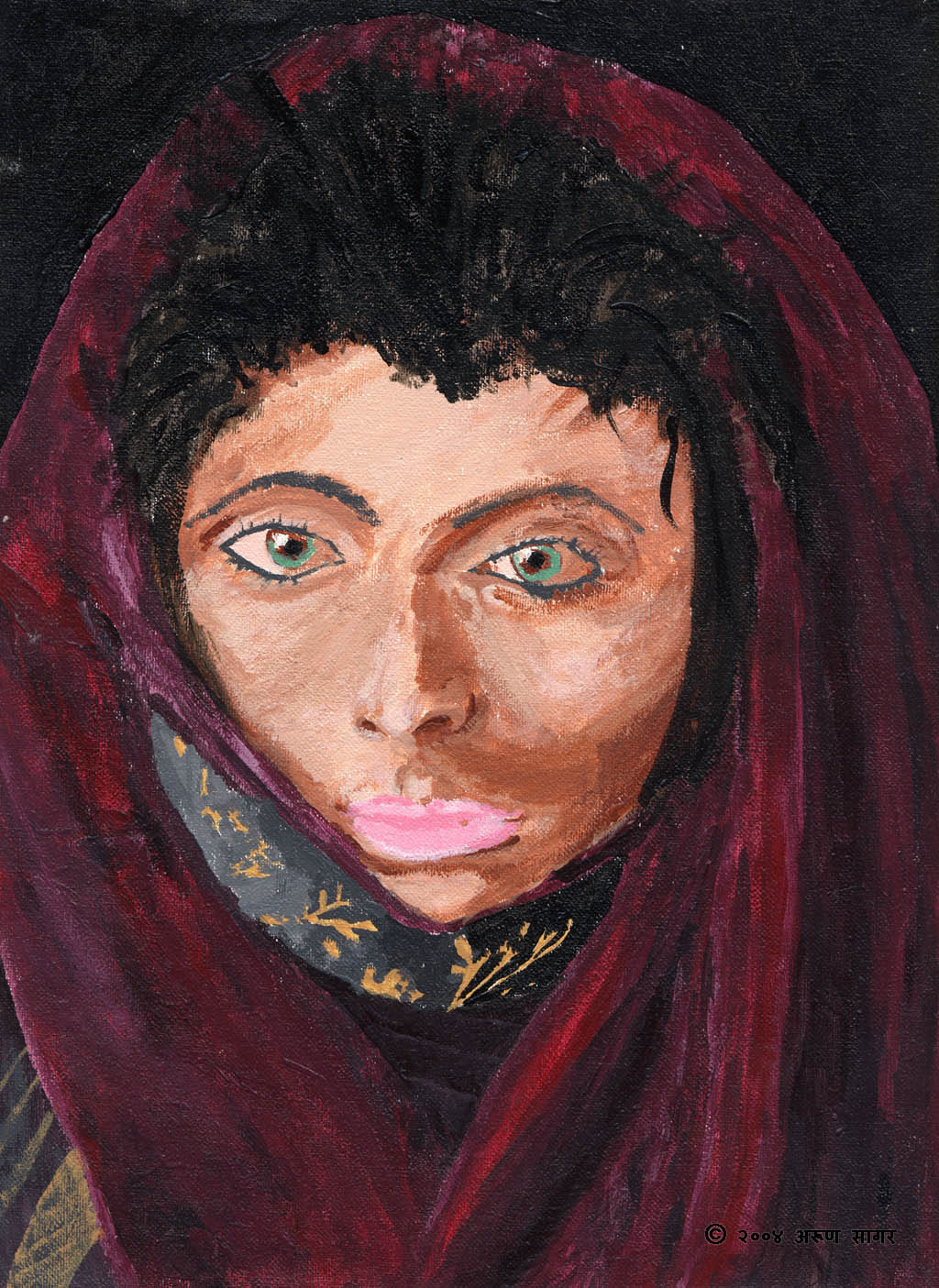 Acrylic on Canvas. 11x8
In retrospect, I'm quite amazed that I was able to get the subtle variations in value using Acrylic. After all, this was my second painting in life!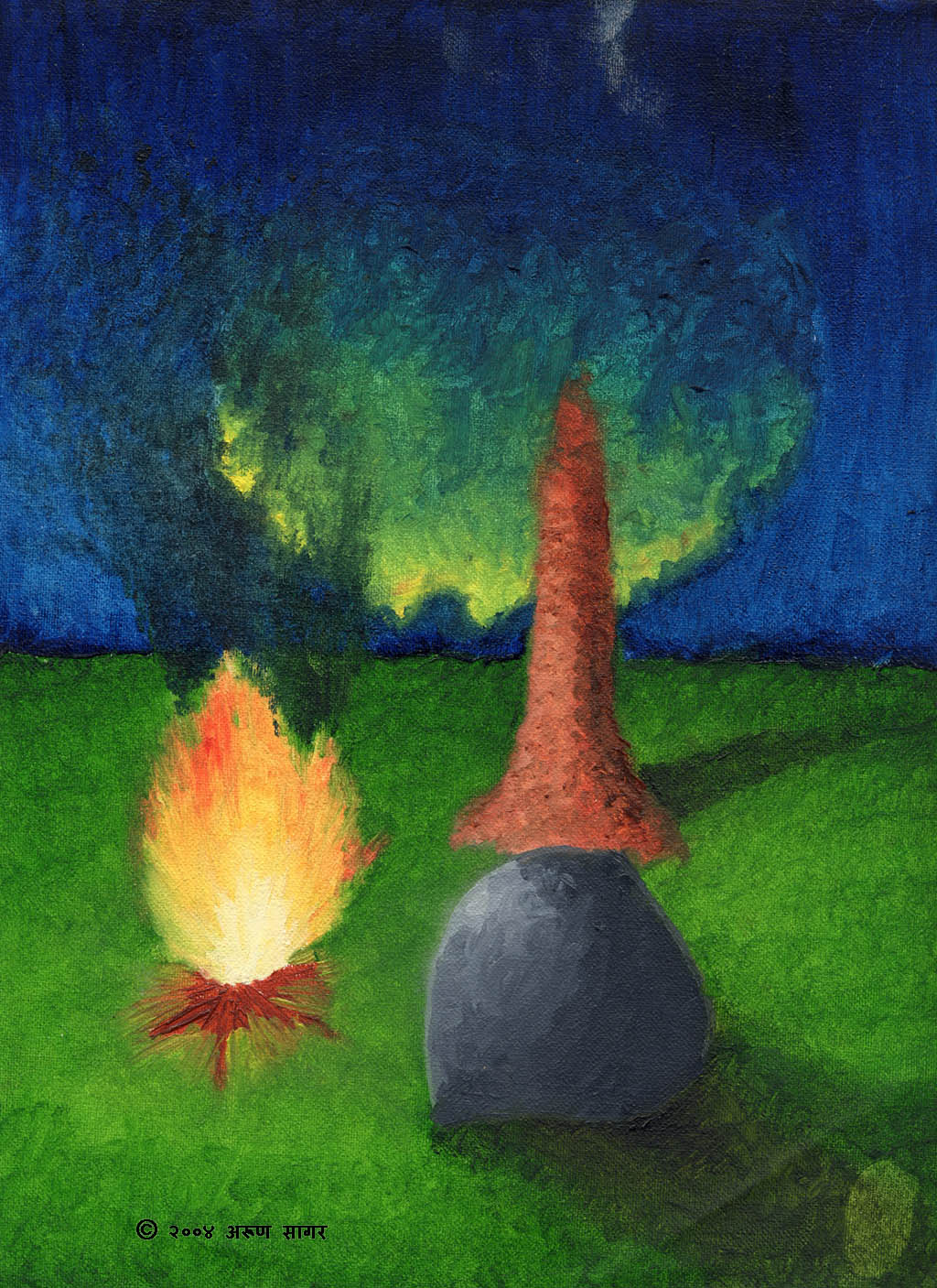 Oil on Canvas. 11x8
By this time I had spent a whole day on Google learning about the technology behind painting. Now I know what I am doing, barely. This one is my early favourite. It's not very deep, but there are many dualities here in a surreal kind of way. For example, is that a tree or a stone pillar? Turpentine smell sucks.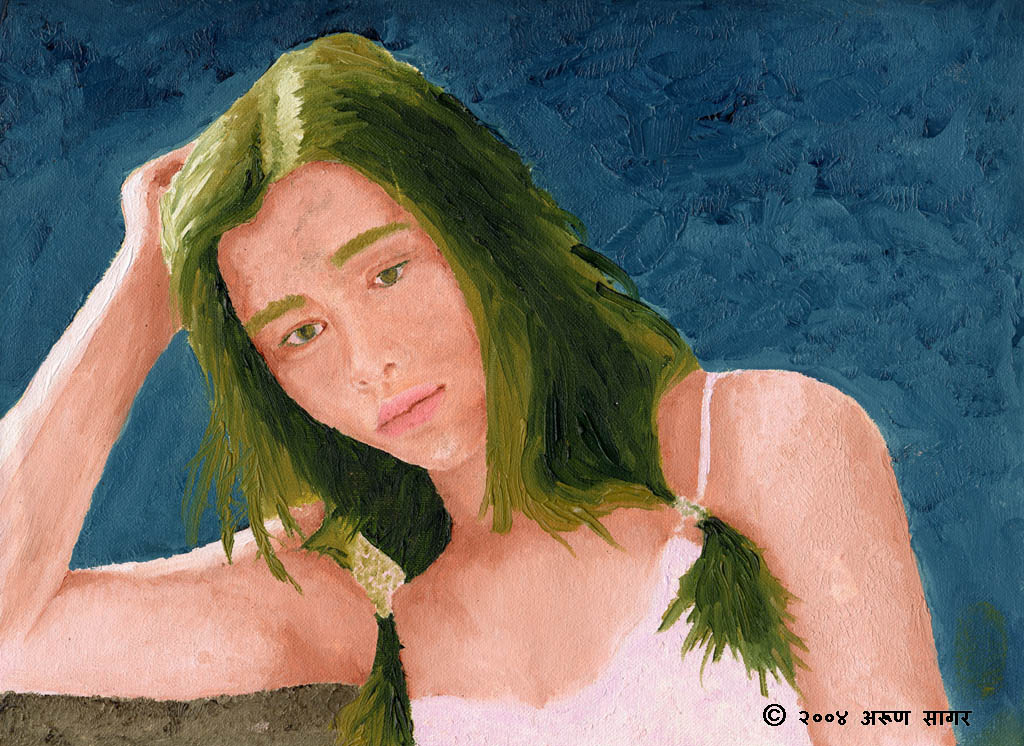 Oil on Canvas. 8x11
This painting took me two days. But after completion, I realized that it wasn't half bad. Before this moment, I had always felt insecure about painting. Fixed that problem.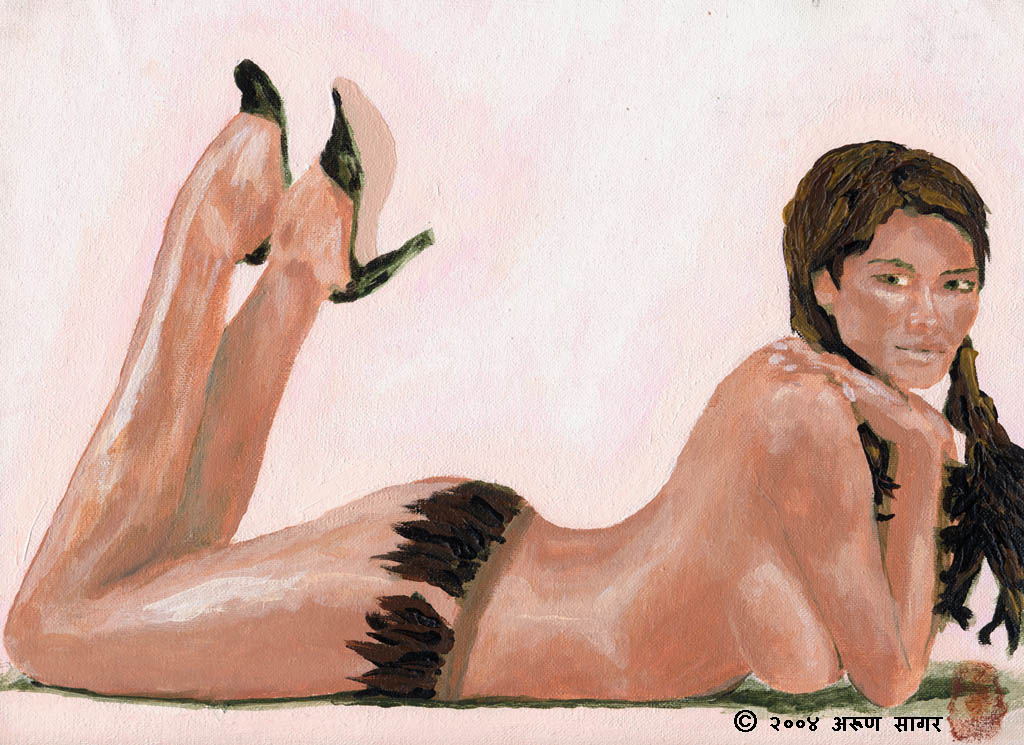 Acrylic on Canvas. 8x11
Lesson learned: painting shades with acrylics is hard. Quite ironic considering 20041011-2. I have made a stylistic choice to keep the negative space blank. The idea is to focus on naked flesh, not anything else.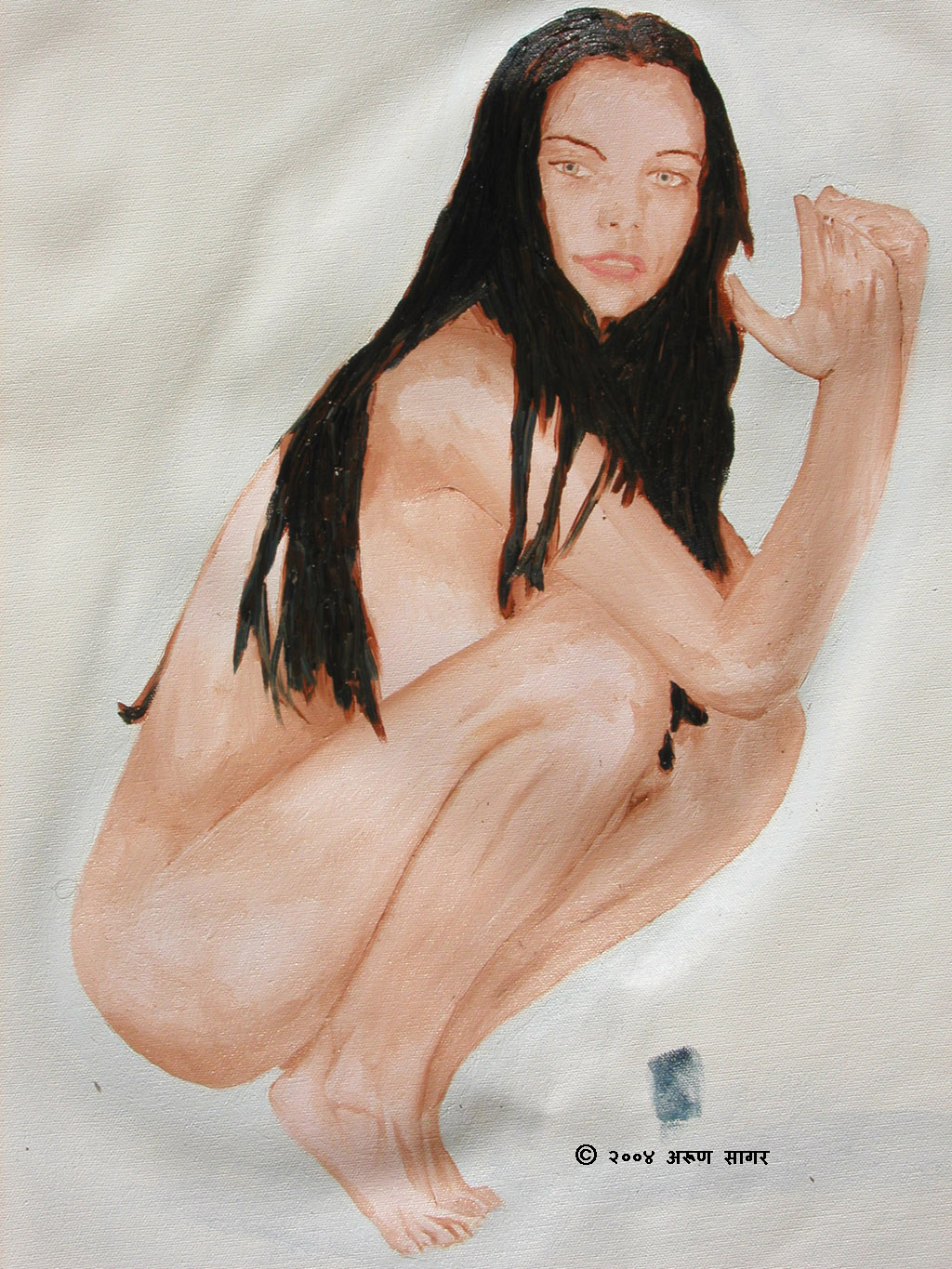 Oil on Canvas. 24x18
While painting, her hair was the color of luscious burnt sienna. I should have left it at that. Oh well.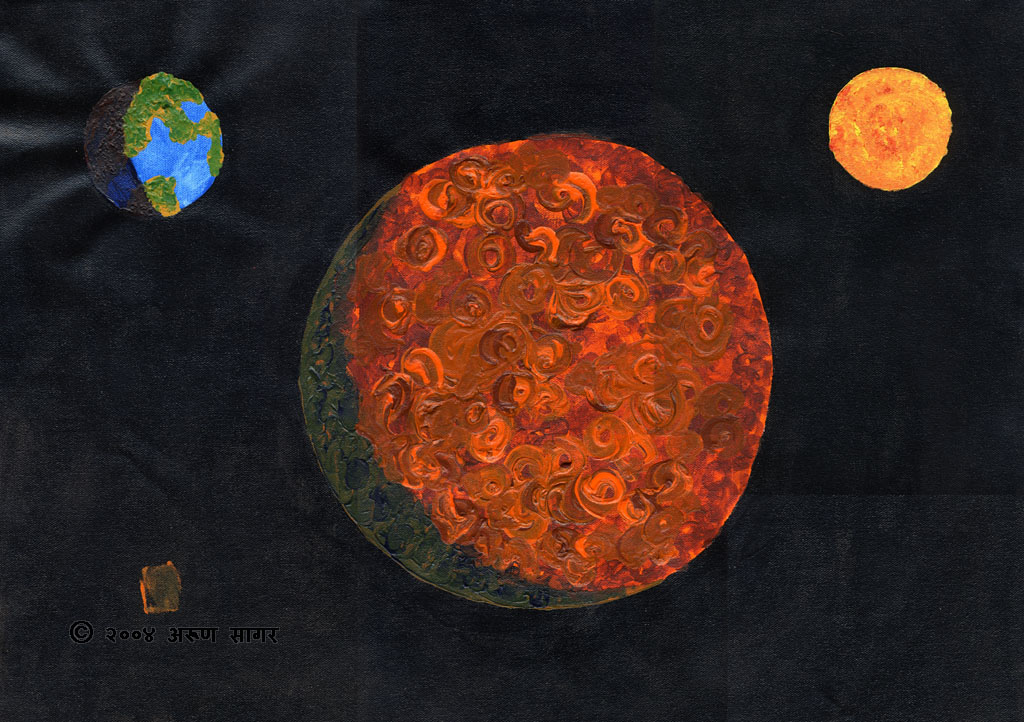 Acrylic on Canvas. 18x24
I made this after reading "Metamorphosis of Prime Intellect". Post facto I wanted to call it "Eden", but this connection is probably subliminal. There are other interpretations, again, all of them occurred after the painting was done. Fire, Earth and Water are visible. Air is implied by the surrounding black space. The serendipiditous magnetic field effect around the blue-green planet is due to the warping of the canvas. Probably due to the differential drying rate of the exposed blue surface. The thing to notice is the size of the brown sphere -- it gives the impression it is a small asteroid heading in an unknown direction. But observe the shadow carefully. This is one big mother. Another thing to ponder is that the star is almost a red giant, whose size can span the entire orbit of Earth. That too is one huge mother. With the value of G being what it is, a solid rock-asteroid-planet can not possibly exist in that size (it should collapse into a black hole I think). The implication is that this portrays a universe where G is different. Also observe the lack of a star field. So the interpretation I am drawing attention to is this: this is the pre-big bang universe.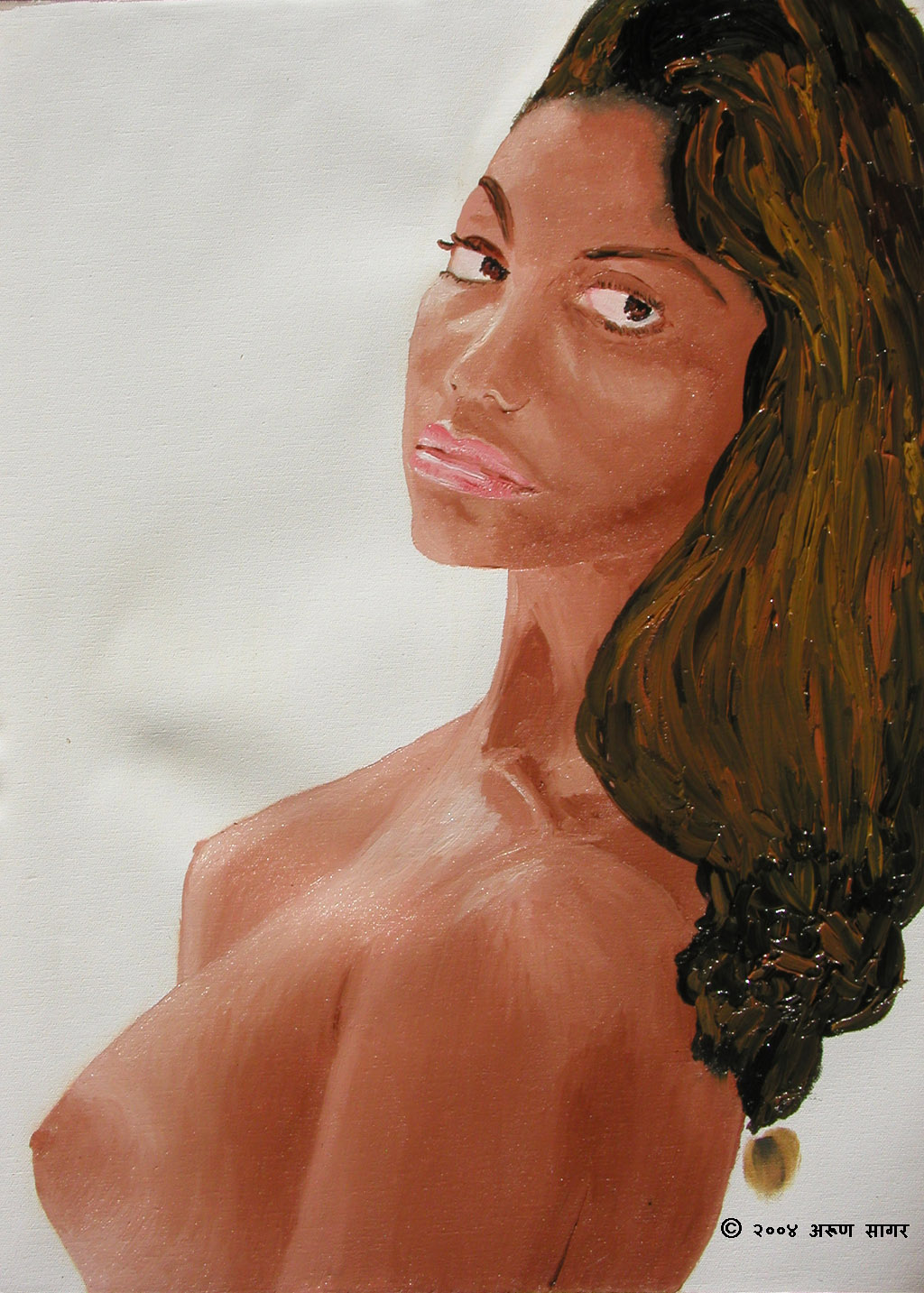 Oil on Canvas. 24x18
The mole on her back is really a fruit fly that got stuck while the painting was drying in the sun. I think I have developed tolerance for turpentine. Better check for toxicity. All famous old master painters are known to be dead. Not a good sign.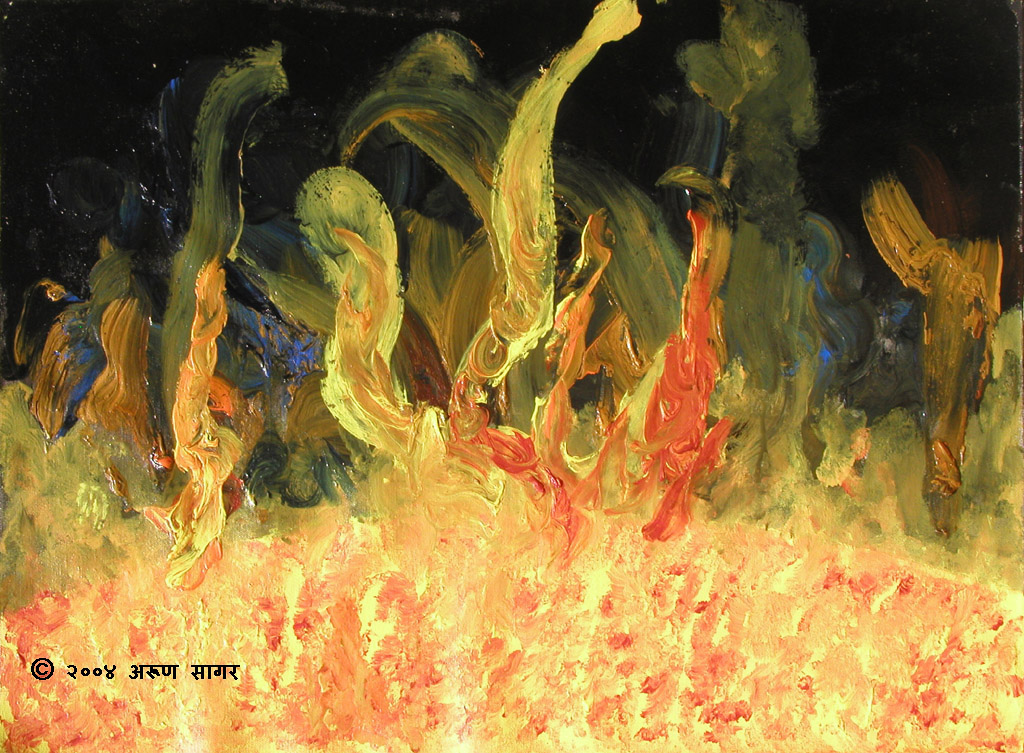 Acrylic on Canvas. 18x24
I liked doing the star in 20041201-8 so much that I focused on doing a surface depiction of it. I imagine that the surface of a star generates the entire EM spectrum and the rich chroma distribution depicts that.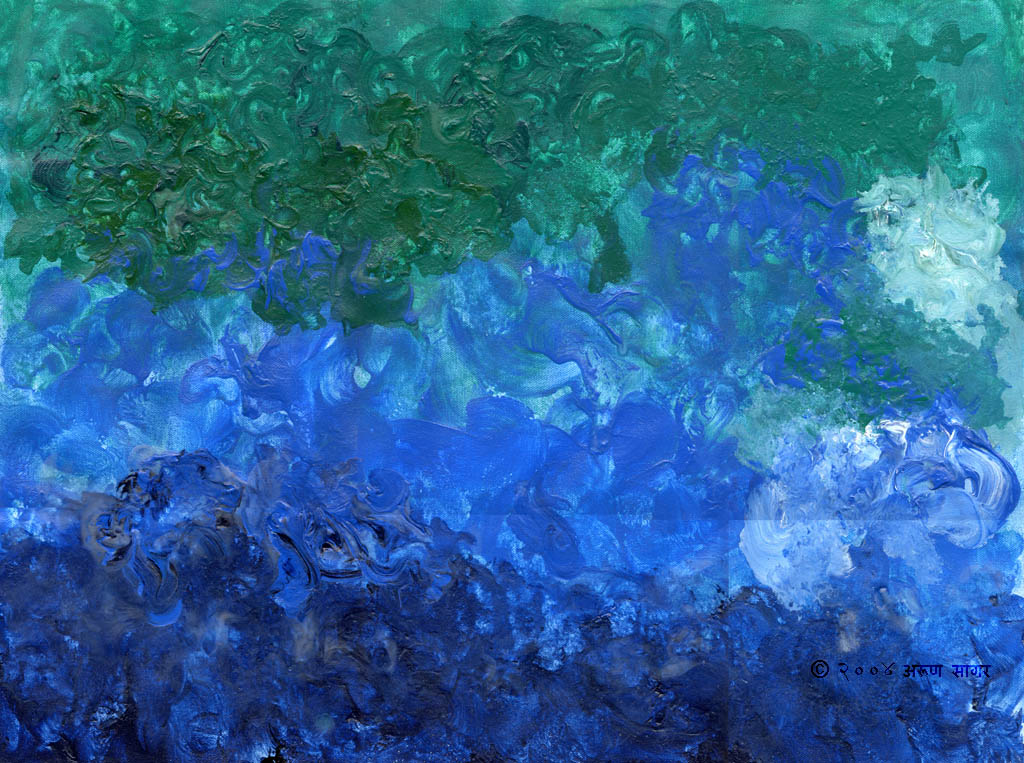 Acrylic on Canvas. 18x24
This one, umm.... just sucks. Thematically, if the previous one was Fire, this one is Water. What is meant to be depicted is the complex interaction between inert water (blue) and life (green). What came out is a mess of too much paint and acrylic gel.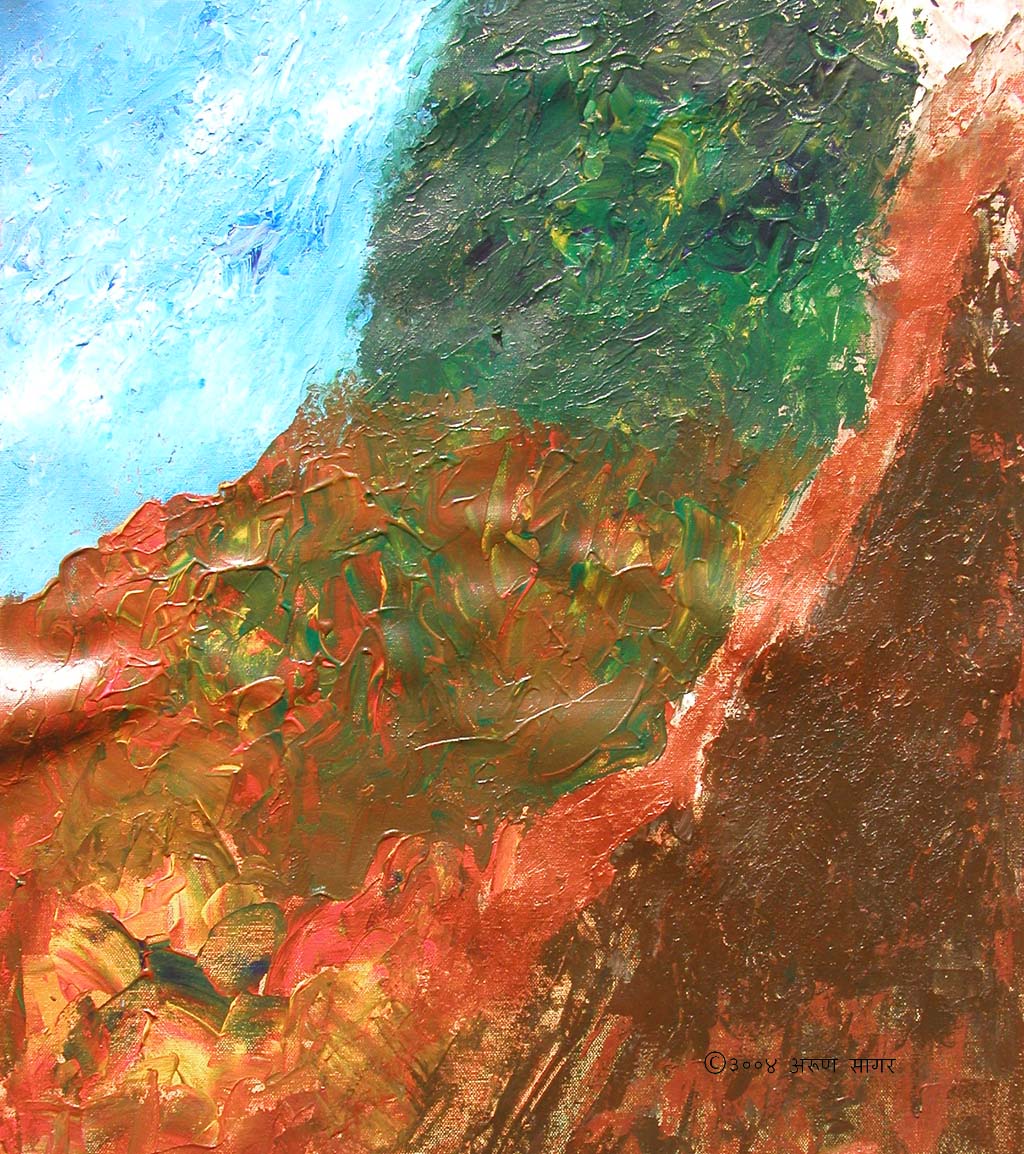 Acrylic on Canvas. 24x18
This one, sucks too. Supposed to be Earth. My excuse is that it was done entirely with a palette knife. Look Ma, no brush! Another thing to observe is that this painting could be oriented in different directions to get a different scene. I chose the tall orientation for the "waterfall/mountain/blue sky" interpretation
Acrylic and Oil on Canvas. 18x24
I wanted to finish this in one night, hence the unfinished look. The waifish look is more an artifact of non-skill than intent. Under dim light, the hand has remarkable depth.
© 2004 Arun Sagar. All rights reserved.